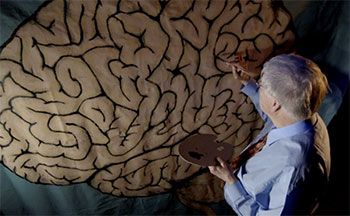 I want to offer my congratulations to Mohamad Koubeissi, M.D., director of the GW Epilepsy Center and associate professor of neurology at the GW School of Medicine and Health Sciences, who will be featured for his important work in epilepsy research and treatment in a new National Geographic series called BREAKTHROUGH.
BREAKTHROUGH, which was created in partnership with General Electric, is a revolutionary new series about scientific explorers from leading universities and institutions and how their cutting-edge innovations and advancements will change lives in the immediate future and beyond. Executive produced by Ron Howard, Brian Grazer, Steve Michaels, Jonathan Koch and Mark Dowley, BREAKTHROUGH includes six episodes exploring remarkable scientific discoveries in brain science, longevity, water, energy, pandemics and cyborg technology. The GW School of Medicine and Health Sciences, the GW Hospital, and the GW Medical Faculty Associates are excited to be a part of such a monumental project.
The series will premiere on Sunday, Nov. 1 at 9 p.m. ET on the National Geographic Channel. The episode featuring Dr. Koubeissi will premiere on Sunday, Nov. 15 at 9 p.m. ET. The episode features Dr. Koubeissi's work to develop a groundbreaking way to treat epilepsy with deep brain stimulation. A special thanks to Donald Shields, M.D., M.B.A., associate professor of neurological surgery, and the countless GW medical students, residents, nurses, staff, and patients who helped make this happen.
Please take a moment to watch the trailer and share the exciting work happening at GW. And please congratulate Dr. Koubeissi if you see him in the hallway! I encourage all of our students to take advantage of the access they have to high caliber faculty members and to find ways to get involved in the innovative research happening at the GW School of Medicine and Health Sciences.
Thank you,
Jeffrey S. Akman, M.D.
Vice President for Health Affairs
Walter A. Bloedorn Professor of Administrative Medicine
Dean, School of Medicine and Health Sciences